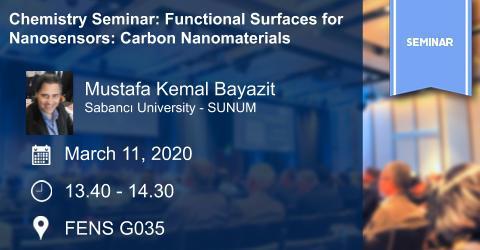 LISTEN
Chemistry Seminar: Functional Surfaces for Nanosensors: Carbon Nano...09-03-2020
Speaker: Mustafa Kemal Bayazit, Sabancı University - SUNUM
Title: Functional Surfaces for Nanosensors: Carbon Nanomaterials
Date/Time: 11 March, 2020 / 13.40-14.30
Place: FENS G035
Abstract:Nanomaterials, each bearing different features, exhibit distinct mechanical, electrical, optical, catalytic and magnetic properties due to their small size (the length scale of approximately 1-100 nm) and, they continue to be highly appealing in a variety of research disciplines. Family of the carbon nanomaterials (CNMs) including graphene, carbon nanotubes, crystalline diamond and carbon dots exhibit exceptional properties that can be applied for various applications. The potential of use the functionalized CNMs in sensing applications is unarguable, since they have exceptional properties compared to their bulk forms. My talk will cover the types of the CNMs, the surface modification technıques for CNMs and the state of recent discoveries about carbon-based chemical and biological sensing platforms and, I will finish the talk by giving a perspective to the future of sensors.
Bio: Dr Mustafa Kemal BAYAZIT is the recipient of the prestigious TÜBİTAK 2232 International Fellowship for Outstanding Researchers (2019) and he is currently a Principal Investigator in SUNUM. He earned his MSc (High Hon) in Chemistry from Abant Izzet Baysal University in 2005 and completed his PhD in nanoscience at the University of Durham, the UK in 2010. Before returning Turkey in 2019, he worked as a senior scientist in world-class institutions for 8 years in the UK. His research spans the design and processing of 0D-, 1D-, 2D- and 3D-nanomaterials and their applications particularly in energy harvesting, composites and sensing. He is one of the unique scientists in Turkey as well as in the world, who couples microwave systems with continuous microfluidic reactors to manufacturing value-added materials.
He is the recipient of the doctoral fellowship (2007) awarded by the Scientific and Technological Research Council of Turkey and the University of Durham (2008), and he was awarded the 2232 Returning Scientist Grant (2018). He is also the recipient of the 1st Community Achievement Award by the Centre for Turkey Studies and Development (2012) and the Greater Success Award of Izzet Baysal Foundation (2002), and he is listed in Marquis Who's Who in the World
2013. He is an active Member of Royal Society of Chemistry and American Chemical Society, and a Senior Member of Association of Turkey/England Healthcare Professionals. He is the founder of TR-Nanotechnology discussion group in LinkedIn and acts as a referee for several high impact scientific journals including Nature Communications.