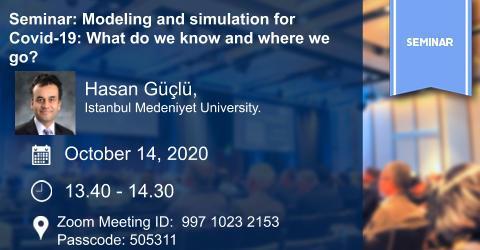 LISTEN
SEMINAR:Modeling and simulation for Covid-19: What do we know and where?13-10-2020
Speaker: Hasan Güçlü İstanbul Medeniyet University
Title: Modeling and simulation for Covid-19: What do we know and where we go?
Date/Time: 14 October 2020 13:40 - 2:30 pm /
Zoom: Meeting ID: 997 1023 2153 Passcode: 505311
Abstract: Starting late 2019, a virus previously known through its peers causing mild infections started a worldwide pandemic due to the lack of immunity agains it. A global effort to contain the new disease was made by using earlier models for other diseases but soon the scientific community revealed peculiar differences between them. New set of pharmaceutical (vaccines and anti-virals) and good old non-pharmaceutical interventions (social distancing, masks, etc) have been implemented for mitigating the pandemic. The success of these interventions do not only depend on virology, epidemiology but also the behavior of the individuals. In this talk I will review efforts in general for modeling and simulation of infectious diseases that take the behavior element into account and what we have learned so far from these efforts in terms of nowcasting and forecasting. Then, I will give details on some recent work in the Covid-19 context for country-wide epidemic spread and the special cases of schools and contrast them with earlier models. This work in part supported by EU Marie Curie Actions program through a Reintegration Grant MIDIDP number 797816.
Bio: Hasan Güçlü is a physicist by training with a BS and MS degree from METU and a PhD degree in statistical physics from Rensselaer Polytechnic Institute in New York. He received postdoctoral training in complex systems at Los Alamos National Laboratory, New Mexico, as a funded fellow. He worked as an assistant professor of computational mathematics at Rochester Institute of Technology in New York between 2008 and 2010. Before moving back to Turkey in 2016 he was with the Department of Health Policy and Management at the University of Pittsburgh Graduate School of Public Health. Since 2016, he has been a professor of statistics and professor of biostatistics and biomedical informatics at Istanbul Medeniyet University (IMU). He is also the head of the Biological Data Science Masters of Science Program at the same institution. His research interests include modeling and simulation of infectious disease spread, complex systems modeling, network analysis, statistical information systems among others. He has published cross-disciplinary scientific work in collaboration with various research groups on venues including Science, Nature, Physical Review, PloS ONE, INFOCOMM, ICDCS, IEEE P2P, etc.