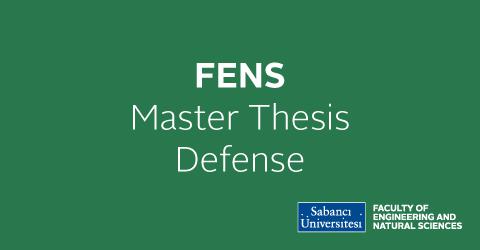 LISTEN
MSc. Thesis Defense:Sezin Sayın18-06-2019
FABRICATION AND CHARACTERIZATION OF POLYMERIC NANOFIBERS AND NANOTUBES FOR CONTROLLED RELEASE OF ROSE BENGAL
Sezin Sayın
Materials Science and Nano Engineering, MSc. Thesis, 2019
Thesis Jury
Assoc. Prof. Gözde Özaydın İnce (Thesis Advisor),
Assoc. Prof. Güllü Kızıltaş Şendur
Prof. Dr. Lokman Uzun
Date & Time: 20th June 2019 – 11.00-13.00
Place: FENS G015

Keywords : Initiated chemical vapor deposition, electrospinning, stimuli responsive polymeric nanotubes, stimuli responsive polymeric nanofibers, controlled release
Abstract
Advances in nanotechnology in the last decades have paved the way for significant achievements in diagnosis and treatment of various diseases. Different types of functional nanostructures have been explored and utilized as tools for addressing the challenges in detection or treatment of diseases. In particular, one-dimensional nanostructures hold great promise in biomedical applications due to their increased surface area to volume ratios, which allow better targeting, increased loading capacity and enhanced controlled delivery. Stable polymeric nanostructures that are stimuli-responsive, biocompatible and biodegradable are especially preferred for bio-applications. This thesis focuses on the fabrication and characterization of stimuli-responsive polymeric nanofibers and nanotubes for controlled delivery of Rose Bengal (RB) molecules. Single layer and coaxial polymeric nanostructures were prepared by using initiated chemical vapor deposition (iCVD) and electrospinning. iCVD technique was used for additional stimuli responsive properties such as pH, temperature and CO2 responses. Coaxial poly(4-vinylpyridine-co-ethylene glycol dimethacrylate) deposited poly(vinyl alcohol)-RB blend nanofibers were synthesized for controlled RB release in medium at different pH values. Coaxial nanotubes with outer layer of polydopamine-folic acid and with inner layer of poly(methacrylic acid-co-ethylene glycol dimethacrylate) were fabricated for pH controlled and folate receptor targeted RB delivery. Dual responsive poly(n-[3-(dimethylamino)propyl]methacrylamide-co-ethylene glycol dimethacrylate) nanotubes were deposited to obtain CO2 and temperature responsive RB release. Release and loading studies from these nanostructures were performed by using UV-Vis spectroscopy. Korsmeyer-Peppas equation was employed to investigate release kinetics. It was concluded that through responsive polymer coatings, the release kinetics of the nanotubes and fibers could be controlled.