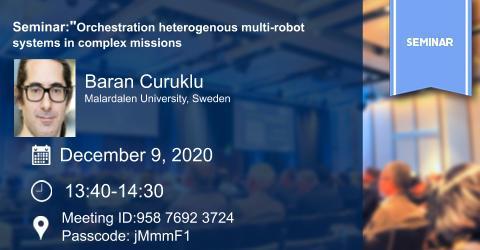 LISTEN
SEMINAR: "Orchestration heterogenous multi-robot systems in complex...08-12-2020
Speaker: Baran Çürüklü
Title: "Orchestration heterogenous multi-robot systems in complex missions"
Date/Time: 9 December 2020/ 13:40- 14:30
Zoom: Meeting ID: 958 7692 3724
Passcode: jMmmF1
Abstract:How can we orchestrate a group of robotic agents to fulfill the objectives of a mission? What do we need to define a mission, monitor the activities during its lifetime and recover normally.In many real-world problems different types of autonomous systems are desired. However, it is not trivial to design a system with the human user in the center. In this talk we will look at these challenges from the perspective of a current 58 partner large European project, afarcloud.eu, in precision agriculture.
Bio:Baran Çürüklü has received his PhD in Artificial intelligence from Mälardalen University (MDH) in April 2005. Computational models of the emergence of the cortical network and the information processing in the sensory cortex of the mammals (primary visual cortex of cats and monkeys) was broadly the scope of his thesis. Currently he is working as senior lecturer at MDH; primarily in the areas of human-industrial robot interaction, multi-robot systems, autonomous systems, and agent architectures.