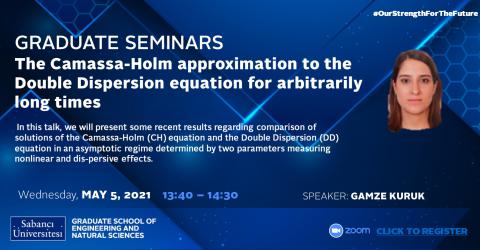 LISTEN
SEMINAR: The Camassa-Holm approximation to the Double Dispersion...03-05-2021
Speaker: Gamze Kuruk
Title: The Camassa-Holm approximation to the Double Dispersion equation for arbitrarily long times
Date/Time: 5 May 2021 / 13:40 - 14:30
Zoom: Meeting ID:https://sabanciuniv.zoom.us/webinar/register/WN_wv7rDNpWTNq5cLXIzGRn1g
Passcode: Webinar registration is required.
Abstract: In this talk, we will present some recent results regarding comparison of solutions of the Camassa-Holm (CH) equation and the Double Dispersion (DD) equation in an asymptotic regime determined by two parameters measuring nonlinear and dis-persive effects. First, we prove the validity of the CH equation as a long wave limit to the DD equation which describes the propagation of bidirectional weakly nonlinear and dis-persive waves in an infinite elastic medium. To this aim, we formally show that the right-going solutions of the DD equation can be approximated by the solutions of the Camassa-Holm equation in the long wave limit. We then rigorously prove that both solutions remain close to each other over a long time interval. Moreover, we show that any solution of the DD equation can be written as the sum of solutions of the right and left going CH equations up to a small error. We also show that the approximation error for the decoupling problem is greater than the approximation error characterized by the single CH equation. This work is the extension of the asymptotic approach in [1]-[3] to the DD equation where we see the effects of the two competing dispersive terms in the approximation.
References
[1] H.A. Erbay, S. Erbay and A. Erkip, Derivation of Camassa-Holm Equations for
elastic waves, Phys. Lett. A, 23 (2015), 956–961.
[2] H.A. Erbay, S. Erbay and A. Erkip, The Camassa-Holm Equation as the long wave
limit of the Improved Boussinesq Equation and of a class of nonlocal wave equations,
Discrete Contin. Dyn. Syst., 36 (2016), 6101–6116.
[3] H.A. Erbay, S. Erbay and A. Erkip, On the decoupling of the improved Boussinesq
equation into two uncoupled Camassa-Holm Equations, Discrete Contin. Dyn. Syst.,
37 (2017), 3111-3122.
----------------------------------