Information Technology Program Information Session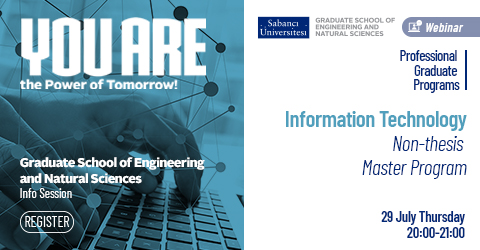 Information Technology Non-Thesis Master's Degree Program Information Session
The driving force behind the tremendous demand for training programs in Information Technology (IT) are the rapid changes in the IT sector, the growing shortfall of skilled laborers and the need for professionals to keep abreast of developments in the field. In an effort to respond to this demand, the Professional Master's Degree Program in IT aims to provide its participants with an international professional profile to meet the rapidly-evolving industry needs.
Program in IT is conducted in classes and laboratories which are equipped with the type of hardware and software components needed for the applied training format adopted by the curriculum.
Information session will be held on Webinar. For registration, please click.
Date and Time: July 29, 2021 Thursday, 08:00 pm - 09:00 pm
Speaker: Dr. Sait Ölmez, Ahmet Demirelli, Altuğ Tanaltay
Contact Information:
Tel: 0 (216) 483 99 82
E-mail: msit@sabanciuniv.edu
Web: msit.sabanciuniv.edu