Accidents that cause head injuries are difficult to anticipate or control. If hazards exist that could cause head injury, employees should try to eliminate the hazards, but they should also wear head protection.
Safety hats protect the head from impact, penetration, and electrical shock. Head protection is necessary if you work where there is a risk of injury from moving, falling, or flying objects or if you work near high-voltage equipment.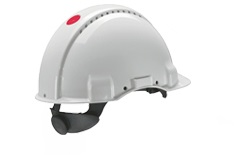 Figure 3.1 Head cover
(Courtesy of Egebant)
Hard hats (Figure 3.1) should be water resistant, flame resistant, and adjustable. Follow these guidelines for head safety:
Check the shell and suspension of your headwear for damage before each use. 
Look for cracks, dents, gouges, chalky appearance, and torn or broken suspension threads. 
Discard damaged hats or replace broken parts with replacements from the original manufacturer.