Waste management is all the activities and action required to manage waste from its inception to its final disposal. This includes amongst other things, collection, transport and disposal of waste together with monitoring and regulation. It also encompasses the legal and regulatory framework that relates to waste management encompassing guidance on recycling
Sabancı University FENS waste management regulations include laboratory performed all activities resulting in the waste category (hazardous, non-hazardous) by preventing harm to environment by means of storage, collection and disposal. 
Personal Training
LS or LSS should be contacted for the personal training of the management of hazardous and non-hazardous wastes in Sabancı University FENS laboratories.
General Waste Management Procedures And Waste Determination Process
Sabancı University FENS has strict regulations concerning the management, storage, and disposal of hazardous materials. Within specific activities, LS and LSS will provide advice and technical assistance regarding hazardous wastes. However, it is the responsibility of each individual to know the possible dangers associated with any material being used or generated, and know how the material should be handled and disposed of before a project begins. The schematic below shows the waste management process  (Figure A.1):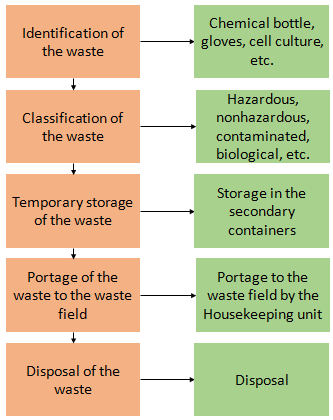 Figure A.1 Waste management process
Material for which Waste Management programme is responsible:
Chemical waste
Highly Toxic Material
Examples include inorganic cyanides, pesticides, and arsenic compounds.
Used oil
Biological/infectious waste
Batteries
Radioactive waste (Please see Radiation Safety section)
Sharps
Broken glass
Empty compressed gas tanks and pressurized containers
Electronic waste, which includes unwanted computers, monitors, televisions, audio equipment, printers, laptops, fax machines, telephones and other electronic equipment. When electronic equipment breaks or becomes obsolete, it must be properly disposed of or recycled. 
Types of Waste
Laboratory waste in Sabancı University is classified according to the schematic below (Figure A.2):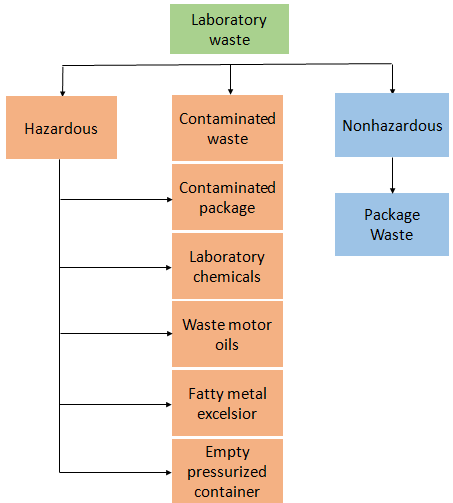 Figure A.2 Laboratory waste classification
Hazardous Waste
Contaminated waste
Gloves, respirators, filters, lab coats and materials used in the laboratory
Contaminated waste – autoclaved
Bacteria, yeast etc. microbiological waste, live/dead tissue waste
Contaminated packages
Rust solver, chemical spray boxes
Empty pressurized containers
Rust solver, chemical spray boxes, compressed gas tanks
Laboratory chemicals
Fatty metal excelsior
Waste motor oils
Sharps
Broken glass
Non-hazardous Waste
Please see Appendix A.1. Laboratory Waste Guide Table.
Container Labels
All chemical/contaminated/electronic etc. wastes should carry a label identifying their content.
Waste Minimization
Only the quantity of material that will be completely used within a reasonable time frame should be purchased. If the products are stockpiled for future use, valuable space is unnecessarily used and the disposal of the hazardous chemicals are much more difficult when not used.
Limit the amount you order. Review chemical stocks and needs before ordering.
Do not stockpile chemicals.
Avoid duplication - Check your inventory to avoid ordering chemicals that are already in stock. Keep up to date inventories.
Rotate chemical stocks to use up chemicals before their shelf lives expire. This impacts research and may impact the credibility of results: some chemicals, both organic and inorganic, may degrade or otherwise have reduced or modified reactions over time.
The following guidelines are a checklist to accomplish waste minimization – they are not intended to restrict activities:
Before beginning a project, determine the hazards associated with the material. Where possible substitute less hazardous substances.
Use small batch or micro-level reactions where possible.
Order and maintain minimum quantities of chemicals.
Certain chemicals are difficult and/or costly to dispose of and should be given special consideration. Some types are:
Heavy metals, e.g., mercury, barium, cadmium, chromium, beryllium, silver, selenium, tellurium, either elemental or in compounds.
Chlorophenols, dioxins, and cyanides.
Compressed gases (to include lecture bottles) or containers with liquids under pressure (especially if the substance is poisonous). Where possible arrange with the supplier to accept return of used containers.
Good purchasing decisions are the first steps in minimizing waste generation. Every effort must be made to keep purchase quantities to a minimum. Remember "LESS IS BEST" when planning work and ordering chemicals
References and sources for information from the relevant websites and documentation of different universities, NGOs and government agencies used in the preparation of this website are provided at references.